LeMars, IA
Iseman Homes/Parkview Terrace has both new and pre-owned homes for sale that are ready for you to move in. Parkview Terrace is a mobile home community located in a quiet country setting in Le Mars, Iowa. It is located just minutes from downtown, yet miles away from unwanted hustle and bustle. Parkview Terrace is a virtual oasis with spacious lots, handsomely landscaped with lush trees and vegetation. At Parkview Terrace there are no strangers, just friends we have not met.
Lot rent starting at only $200.00 per month. Rental homes available.
Contact us now for more information.

Call Steve or Gary at 712-546-8004 for Park/Sales Office
Email sflynn@isemanhomes.com or giversen@isemanhomes.com for more info!
Parkview Terrace, 76 16th Ave. NW, Le Mars, IA "Ice Cream Capitol of the World"!
Please call ahead as somedays and hours will be flexible...

Office Hours
Monday - Thursday 9am-6pm
Friday 9am-5:30pm
Saturday 9am-4pm
Sunday Closed
Our phone number is: (712) 546-8004 Email: info@isemanhomes.com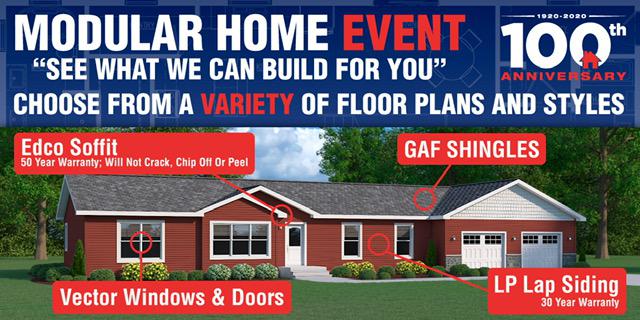 Current Listings (Click image to see more details):
Make/Model
Bd
Bath
SqFt

NorthStar Building Systems / Copper Mountain
3
2.0
1972
53-1620-504

Hart / 100th ANNIVERSARY SPECIAL
3
2.0
2280
53-1111-505 100th Anniversary Home

/ Hart Loft
3
2.0
1512
53-5774-510 Hart Loft

Redman / Advantage Apollo
3
2.0
2160
53-705359-515 Redman Advantage Modular

NorthStar Building Systems / Roscoe
3
2.0
1652
53-1587-520 NorthStar Roscoe modular

Highland / Signature 543L
3
2.0
1653
53-3036-525 Signature modular

Hart / American Traditions
3
2.0
1216
53-9436-540

Redman / Foundation
3
2.0
1056
53-8987-545

Redman / Advantage 299
2
2.0
1080
51-2271-550-Advantage IRC Modular

Atlantic / 8500
3
2.0
1493
61-6105-625-2860-8500

Adventure / Mojave
2
2.0
880
53-9170-1045-2018 Adventure Mojave 14x70

Marshfield / Marshfield
3
2.0
1344
53-50714-1050

Chief / Sharlo
3
2.0
1216
53-27643-1055

Redman / Extreme
3
2.0
1216
53-105824-1057

/
0
0.5
RENTALS
If you are planning to buy a home, and you have been searching for an affordable Manufactured Home in LeMars, IA, Our LeMars, IA Manufactured/ Manufactured Homes would be a great solution for you. LeMars, IA manufactured homes are an affordable quality option. Our selection of Manufactured Homes in LeMars, IA, is second to none.

Manufactured homes sold by Iseman Homes in LeMars, IA are the highest Quality in the area. Our LeMars, IA Modular Homes can be tailored to your specific choices. There are many advantages to living in the Manufactured homes sold by Iseman Homes LeMars, IA. These homes are spacious and accommodate any size family.

Manufactured/Manufactured homes in LeMars, IA are now fast evolving as one of the most preferred types of housing. Manufactured homes can be custom made for your specifications in LeMars, IA, with existing homes also available for rent and for resale.

Iseman Homes also has space rentals available for you to place your manufactured home with low monthly rates and move in specials.

LeMars, IA manufactured homes are very convenient for seasonal residence or perfect for retirement.